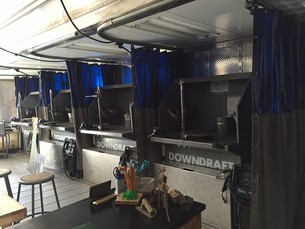 In 2010, Northern Lights Public Schools, industry partners and our local communities invested in the Mobile Trades Lab as an experiential learning facility, to expose students to the carpentry, welding and pipefitting trades.  It consists of two semi-trailers that transform into a self-contained work shop space.
Over time the carpentry and pipefitting content gave way to a predominant focus on welding and metal fabrication.  The intent of the lab for the past few years has been to provide experiential learning in the welding trade to middle school students; however it is also accessed by the students in the Outreach schools when it is located in proximity throughout the year. 
Given the number of schools and wide geographic area of Northern Lights Public Schools, a rotating three-year schedule has been developed through which at least three different Northern Lights schools access the lab each year:
Year one the lab services students in the Glendon, Iron River, Ardmore and Art Smith Aviation Academy;
Year two the lab moves to accommodate H. E Bourgoin, Cold Lake Middle, Nelson Heights and the Bonnyville and Cold Lake Outreach schools;
Year three the lab will be accessed by Kikino School, Aurora Middle School, Ecole Plamondon as well as by the Outreach students from the Jouneys Learning Academy, and Crossroads Outreach school.