Preschool Registration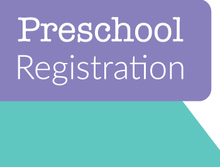 Registration for the 2018-2019 school year is now open to the public! If you are new to our Care to Learn Preschool program. you can register through School Engage HERE.
Pre-registration for existing Care to Learn Preschool families for the 2018-2019 school year began April 9th. Parents should have received an email with information on how to register using our new online registration process through the PowerSchool Parent Portal. 
You will need to provide citizenship documentation as part of the process (birth certificate, passport, citizenship papers), so please have a photo or scan of your documents ready to upload. Once you have submitted your form, it may take up to five working days (Monday to Friday, excluding statutory holidays) for us to review your form and availability in the class you have selected (please see our Preschool page for more information and options.) You may receive a call from our division coordinator during that time to confirm details.
Once your enrolment has been confirmed, you will need to pay your deposit to secure your space. This is the process you will need to follow:
You will receive an email with your Access ID and Access Password for the PowerSchool Parent Portal. Instructions on how to create an account and link your student to that account have been posted HERE. You will need to do this to access your student's ASN (Alberta Student Number), which you will need to set up an account in School Cash Online, or to attach your student to your existing School Cash Online account.
If you do not already have a School Cash Online account, please follow the instructions HERE to set one up and attach your student to your account using their ASN.
You will receive an email notification from School Cash online when your preschool deposit is available to be paid. This may take up to 24 hours.
If you need assistance in setting up or using School Cash Online, please contact your school. Your space in the preschool program will be held for two weeks from the date your enrollment is confirmed. If you have not made payment by that time, your space may be assigned to someone else. If you are experiencing difficulty paying the fee on time or need assistance with applying for the Provincial Government's Child Care Subsidy, please contact our Division Coordinator, Glenda Bouvier, at 780-623-4414. 
A government childcare subsidy is available through Human Services.
In addition to our online registration form, parents and guardians will need to complete an Ages and Stages Questionnaire and an Ages and Stages Social Emotional Questionnaire for each student and bring the completed forms to the Preschool Instructor when school starts in September. Questionnaires are also available for pick up at your local preschool.
If you wish to register for preschool for the remainder of the 2017-2018 school year, please email caretolearnpreschool@nlsd.ab.ca